Various artists - A Tribute to Genesis
Without question, the best track on the set is Shaun Guerin's take on "Back In New York City."
From http://ar.geocities.com/nucleusprog2/
I magnify album premiere of the extraordinary one multi North American instrumentalist Shaun Guerin published by the label Clearlight Music whose watchword continues being the one of offering "Progressive Music for a new era".
"By The Dark Of Light" is the name of this I magnify premiere discographic of the multi instrumentalist
Shaun Guerin
. In him, the presented music traffics for the same full roads of dramathic and beauty that the
Genesis
of the era
Peter Gabriel
explored. And in fact of that lyrical stage of the great British band it leaves the artistic concept of
Guerin
, inclusive from the election of the responsible for the cover art who is not another that the legendary creator of the covers of several more significant albums of
Peter Hammill
,
Van der Graaf Generator
,
Le Orme
, and mainly, of
Genesis
: the painting
Paul Whitehead
.
But, returning to musical content "By The Dark Of Light", we will say that to all him before said this musician adds him fantastic climates that skirt to the jazz rock; being able to fuse to the perfection sounds that communicate two opposed worlds imperceptibly, this said from the rhythmic dynamics of each one of the exponents of which he takes elements. Their music is of very high creative flight, with very melodious, passionate turns, and of great rhythm. Possessor of a sensibility that surprises pleasurably.
Certain passages remind us to the work of their countrymen Rocket Scientists, maybe due to the use of a similar technique in the keyboards to the employee for Erik Norlander. But, let us understand that this parallelism, perhaps be something capricious, useful only to the moment to want to locate the reader.
Shaun Guerin is without doubts an extraordinary discovered artist for the label Clearlight Music that will surely continue offering big works in a future. He possesses that strange brightness of the big creators.
From Nucleus we want to congratulate him to have given us a little more than seventy minutes of vibrant, excellent music; and this congratulation extends for our friend they Dan Shapiro, the magician behind Clearlight Music, to offer so good music.
And by way of bonus track, we will comment that Shaun Guerin will contribute as percussionist, programmer and vocalist in the next album of Clearlight, the band of the mythical French keyboardist Cyrille Verdeaux, creator of the anthological "Symphony" that will appear in next August. Another edition of forced acquisition.
Review from Zoopa Loop 02/11/03
SHAUN GUERIN "By the dark of light"

Coming from Los Angeles, Shaun Guerin is a high talented musician whom has
surely inherited a major part of his talents especially for playing drums
from his father John Guerin (well known session drummer and member of the
LA Express ). Shaun can pass from drums and percussion on to keyboards,
guitar or flute without any difficulties. But as if it wasn't enough Shaun
also sings and the combination of all these characteristics establishes him
as an accomplished musician. If you are a Genesis fan you may have already
heard of him when Shaun was the lead singer and second drummer for Cinema
Show, a Genesis tribute band. After few years of shows with this combo where
he interpreted music of his idols it came natural to him to want to work on
his own compositions.
So "By the dark of light" is his first solo album encapsulating his passions for progressive flavoured stuff, jazz / rock extravaganza and enchanting pop. There isnt any very long numbers on this record, the longest track "Sing my prayers" just clocks over 6 minutes, Shaun doesn't moreover hold forth on the progressive side to prove whatever he can do. This influence, which seems to be the most important since the first minutes, finally meddles in more complex musical universe. He has simply transferred the duality keyboards / guitars from the progressive fields of his inspiration to pop / rock structures indeed to a synthetical genre of jazz / rock fusion. This form of association / repulsion specially expands during few instrumental tracks ( " No misery", "Son of Gorp", "France") where a symphonic almost theatrical approach give more volume to several instrumental flights ( "By the dark of light", "France", "Victory", "Son of Gorp" ).
These different arrangements confer an orchestral dimension on some
of the tracks although there are no stringed instruments as violin or cello
to support the imposing stature of such pieces. Besides, a sort of
brilliancy close to what I could describe as a restrained and stylistic form of
exuberance springs up of the scintillating layers of keyboards which might have
sounded too pompous if the songs had been longer ( "France", "Run to fall,
"Sing my prayers" ). Lots of breaks, rhythmical fractures and ruptures
balance the aforesaid nature of "By the dark of light" giving the whole a
very technical aspect which doesn't take all the same precedence over the
quite accessible touch of Shaun's music. Such tracks as "Run to fall",
"Crazy", "No misery" or "Victory" draw near to jazz / rock stuff but keeping
up appearances of progressive genre due to a very clinical production.
On the other hand this very clean side emphasizes the aerial indeed even
interstellar sound textures which bring a surprising and blissful
sensation to the pop / rock orientated songs where the sweet and soft vocals of
Shaun remind me of Phil Collins during some of his first solo escapades (
"This is not my world", "She's sad", "Sing my prayers" ). I think that Shaun
should focus on this kind of tracks for a potential forthcoming solo
album because I have felt a real osmosis between the music, the lyrics and his
voice which finally reveals much more Shaun's personality than
instrumental numbers. This record is an astonishing cocktail of orchestral inspired movements, pop sensitivity and balanced technical nature but Shaun should choose in which musical direction he would like to go, the result would be more homogeneous.
By the Dark of Light CD review on ZNRCDS.com
Classic symphonic sounding progressive rock in the vein of Genesis (Trick of the Tail, Wind & Wuthering), UK, Camel, and Yes. This is SO good you forget it is brand new! AND everything is done by one musician!! This sounds completely like a full band as Guerin is equally adept at all instruments. The drums are real (Fibes, in fact!) and the keyboard sounds are straight out of 1977. The guitar parts are as good as most (95%) of prog guitarists could hope to produce. The vocals are strong and pleasant. The cover art is by noneother than Paul "Foxtrot-Pawn Hearts" Whitehead! This will be one of the top 5 releases for 2002 - no doubts even though it is only May! Fact is, if someone had told me that this was recorded in 1977 I would be hard-pressed to disagree! Beautiful!
A wonderful review from Ed Batt in Entertainment Weekly, January 14th, 2000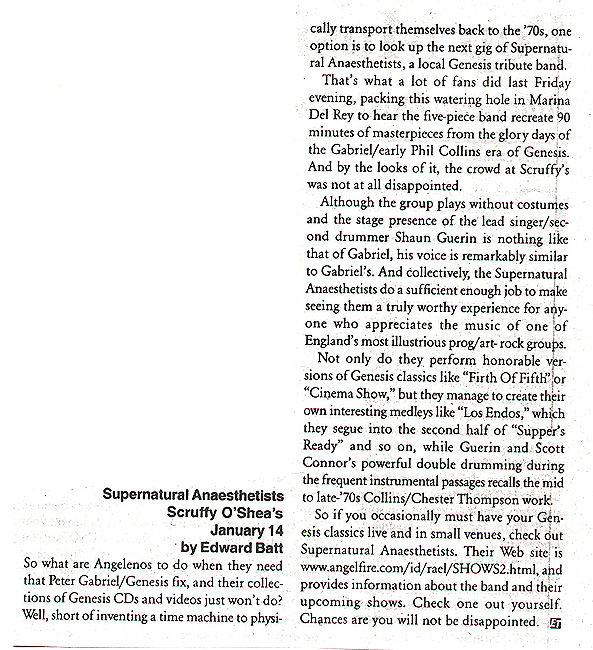 A nice review from Modern Drummer from a few years ago.