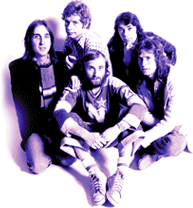 The Lamb tour - Los Angeles - Shrine Auditorium - 01/24/75

The first time I saw Genesis live was January 24, 1975 at the Shrine Auditorium, where they performed The Lamb Lies Down on Broadway. The ticket to the show was a birthday present to me from a friend. Needless to say I was blown away. That was the first time I saw flash pots, which was startling. What a show. I watched Phil alot, noticing how ambidextrous he was. If I had a time machine and I had only one ride I could take, that would be it. And, what a surprise that the recording of that show was released on the first Genesis Archives set.

Wind and Wuthering Tour - Los Angeles Forum - 03/?/77

I don't remember what song they opened up with, but I do know that the Taurus Moog bass pedals that Steve Hackett and Mike Rutherford played shook the Forum, and directly into your soul! Must have been "Squonk". I was in total awe and ecstasy watching and listening to my favorite band kick major ass. I was impressed with how well Phil had taken over the duties so well from the master, Peter Gabriel. I loved watching Phil as he would finish singing and then he'd be up and behind his drumset in seconds! He was a god to me at that time and that status still remains.
As Phil and the boys were playing "The Carpet Crawlers", something very odd occured. As I was peering through my high powered binoculars, I saw this guy run behind Phil's drums and start bombastically wailing away. The roadies quickly saw this and grabbed the guy as he tried to get every last bashing on Phil's set. The only damage done, which I'm sure was little, was the floor tom falling over. You could barely hear the guy since the sound man had already turned down the mics. Phil just turned and looked, not missing a beat.

And Then There Were Three - Los Angeles - Forum - 04/06/78

I have to admit that I wasn't floored by this album, and put it away for a while. I missed the long instrumental passages that would always satisfy me, where I have to hear some inventive, melodic, progressive section that either Banks or Hackett would weave some memorable solos. That changed when I went to the concert and fully felt the power of those tunes. "Deep in the Motherlode" was powerful, "Burning Rope' was moving. (I think it's one of the best Banks compositions) They made me deeply happy by playing "Cinema Show" and Afterglow". I am always pleased by the Chester/Phil drum duet. And that's putting it mildly.

The Duke Tour - Los Angeles, The Greek Theatre, May 27, 1979

A truly magical show. Being outside at the Greek, with our typical California weather, keeping us just right. They played my favorite piece from the album, "Travels/Duke's End". It just kicks! That album has quite a mood and attitude, from the production to the tight playing abilities, and the great material that went into making that album. This is the album where they started using drum machines as a tool to write with. It's also Michael Rutherford's second album playing guitar with the band. At least live they had Daryl Sturmmer handle the harder guitar parts, which allowed me and others to appreciate the ingenious bass lines and melodies that I have always loved. He's number 1 on my list for tasteful playing yet he knows when to unleash his chops in just the right places. All in all a great show.

Abacab Tour - Los Angeles - Forum - 08/09/82

I found myself embracing their new sound easily. Although there were little traces of the long instrumental sections, I was getting into the sparsness of the songs, and as Genesis said, when they started writing a song against a drum machine pattern, they would tend to play less, making it a little less busy and more space. I remember when they launched into "Dodo", and how I thought how much power that song delivered. They kindly played a medley, "In The Cage/Cinema Show/Slippermen/Afterglow". At least this was before it seemed like Phil would begrudgingly play those tunes for the "old" fans.

Mama Tour - Los Angeles - Forum - 01/?/84

This concert had Genesis with the best lighting I have ever seen. I remember during "Second Home By the Sea", how this intense color of purple moved in perfect synch with the music, all pointing down at the band. When you have little things like lighting and excellent music combined, you can't go wrong. I'm not sure which combo medley they played. It could have been, Firth Of Fifth/The Musical Box and In The Cage, or Eleventh Earl Of Mar/ Ripples/Squonk/Firth of Fifth. On top of the playing and lights, they carry their own sound system with them that can make the Forum sound great.

Enter content here